10.0 Flight Operations
Operations aboard a Prometheus class starship fall under one of three categories: Flight Operations, Primary Mission Operations or Secondary Mission Operations.
Flight Operations are all operations that relate directly to the function of the starship itself, which include power generation, starship upkeep, environmental systems, and any other system that is maintained and used to keep the vessel space worthy.
Primary Mission Operations entail all tasks assigned and directed from the Main Bridge, and typically require full control and discretion over ship navigation and ship's resources.
Secondary Mission operations are those operations that are not under the direct control of the Main Bridge, but do not impact Primary Mission Operations. Some examples of secondary mission operations include long-range cultural, diplomatic, or scientific programs run by independent or semi-autonomous groups aboard the starship.
10.1 Mission Types
Seeking out new worlds and new civilizations is central to all that Starfleet stands for. As something of a younger sister of the Galaxy class, Prometheus turn their impressive technology and speed to the business of pushing back the veil of the unknown.
Mission for a Prometheus class starship may fall into one of the following categories, in order of her strongest capable mission parameter to her weakest mission parameter.
Tactical/Defensive Operations: From inception the Prometheus Class vessel was designed to be a front line tactical asset to potentially hostile space combat situations.
Deep-space Exploration: The Prometheus class is equipped for long-range interstellar survey and mapping missions, as well as the ability to explore a wide variety of planetary classifications.
Ongoing Scientific Investigation: A Prometheus class starship is equipped with scientific laboratories and a wide variety of sensor probes and sensor arrays, as well as the state-of-the-art dorsal subspace sensor assembly; giving her the ability to perform a wide variety of ongoing scientific investigations.
Contact with Alien Lifeforms: Pursuant to Starfleet Policy regarding the discovery of new life, facilities aboard the Prometheus class include a variety of exobiology and xenobiological suites, and a small cultural anthropology staff, allowing for limited deep-space life form study and interaction.
Federation Policy and Diplomacy: A Prometheus class starship's secondary role is the performance of diplomatic operations on behalf of Starfleet and the United Federation of Planets. These missions may include transport of Delegates, hosting of negotiations or conferences aboard in the vessel's Conference Hall, courier for important people and/or items, and first contact scenarios.
Emergency/Search and Rescue: Typical Missions include answering standard Federation emergency beacons, extraction of Federation or Non-Federation citizens in distress, retrieval of Federation or Non-Federation spacecraft in distress. Planetary evacuation is not feasible.
10.2 Operating Modes
The normal flight and mission operations of the Intrepid class starship are conducted in accordance with a variety of Starfleet standard operating rules, determined by the current operational state of the starship. These operational states are determined by the Commanding Officer, although in certain specific cases, the Computer can automatically adjust to a higher alert status.
The major operating modes are:
Red alert
Yellow alert
Blue alert
Silent running
Collision alert
Intruder alert
Decompression alert
Security alert
Cruise mode
Grey mode
Typical Shift command is as follows:
Alpha Shift – Captain (CO)
Beta Shift – Executive Officer (XO)
Gamma Shift – Rotated amongst Senior Officers
10.3 Landing Mode
Prometheus class vessels are capable of atmospheric entry and egress with equipment worked into the physical design of the starship. Each vessel is equipped with anti-gravity generators as well as impulse and RCS lifters strategically placed at the mass and stress points on the bottom portion of the engineering section.
During Blue Alert, the Prometheus class lowers the projection sphere of the deflector shields and assumes an angle of attack perpendicular to the angular rotation of the planetary body if it has an atmosphere. This allows the vessel's shape to work as a lifting body with air traveling under the broad and flat saucer and under the wing-like nacelle struts. Once in the atmosphere, navigation is controlled with RCS thrusters and use of the aft impulse engines.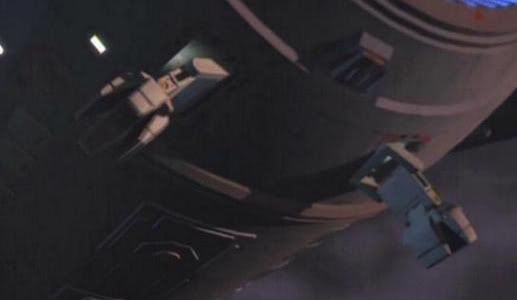 It is standard procedure to lower the landing gear at approximately 2500m above the Landing Zone (LZ) surface, regardless of LZ altitude. This minimizes the drag on the vessel. Once prepared for landing, Aft impulse engines are shut down and four vents on the ventral hull are opened.
These vents cover the ventral impulse thrust plates. Impulse engines in miniature, the thrust plates serve only to provide lift to the Prometheus class as the anti-gravity generators effectively reduce its weight. The RCS thrusters provide final maneuvering power.
Once on the ground, crew or equipment can be transported to the surface from the vessel, or use the ship's turbolift system that connects to channels inside the landing struts themselves, and open out near the 'feet'.
Take-off is done in reverse.
10.4 Maintenance
Though much of a modern starship's systems are automated, they do require regular maintenance and upgrade. Maintenance is typically the purview of the Engineering, but personnel from certain divisions that are more familiar with them can also maintain specific systems.
Maintenance of onboard systems is almost constant, and varies in severity. Everything from fixing a stubborn replicator, to realigning the Dilithium matrix is handled by technicians and engineers on a regular basis. Not all systems are checked centrally by Main Engineering; to do so would occupy too much computer time by routing every single process to one location. To alleviate that, systems are compartmentalized by deck and location for checking. Department heads are expected to run regular diagnostics of their own equipment and report anomalies to Engineering to be fixed.
Systems Diagnostics
All key operating systems and subsystems aboard the ship have a number of preprogrammed diagnostic software and procedures for use when actual or potential malfunctions are experienced. These various diagnostic protocols are generally classified into five different levels, each offering a different degree of crew verification of automated tests. Which type of diagnostic is used in a given situation will generally depend upon the criticality of a situation, and upon the amount of time available for the test procedures.
Level 1 Diagnostic - This refers to the most comprehensive type of system diagnostic, which is normally conducted on ship's systems. Extensive automated diagnostic routines are performed, but a Level 1 diagnostic requires a team of crew members to physically verify operation of system mechanisms and to system readings, rather than depending on the automated programs, thereby guarding against possible malfunctions in self-testing hardware and software. Level 1 diagnostics on major systems can take several hours, and in many cases, the subject system must be taken off-line for all tests to be performed.
Level 2 Diagnostic - This refers to a comprehensive system diagnostic protocol, which, like a Level 1, involves extensive automated routines, but requires crew verification of fewer operational elements. This yields a somewhat less reliable system analysis, but is a procedure that can be conducted in less than half the time of the more complex tests.
Level 3 Diagnostic - This protocol is similar to Level 1 and 2 diagnostics but involves crew verification of only key mechanics and systems readings. Level 3 diagnostics are intended to be performed in ten minutes or less.
Level 4 Diagnostic - This automated procedure is intended for use whenever trouble is suspected with a given system. This protocol is similar to Level 5, but involves more sophisticated batteries of automated diagnostics. For most systems, Level 4 diagnostics can be performed in less than 30 seconds.
Level 5 Diagnostic - This automated procedure is intended for routine use to verify system performance. Level 5 diagnostics, which usually require less than 2.5 seconds, are typically performed on most systems on at least a daily basis, and are also performed during crisis situations when time and system resources are carefully managed.
page revision: 3, last edited: 18 Jan 2009 03:13